Q-Visio Pro is an innovative professional access control system for outdoor use.
Especially designed for use in the building industry:
Residence
Farmhouses
Water Parks
Gyms
Sports Centres
It is particularly suitable in unattended areas or locations without a continuous presence of persons.
iAccess Q-Visio does NOT require any network or internet connectivity. It works completely independently.

It is sufficient to supply it with 12 Vdc, and connect it's relay to the electric lock of the door you want to activate.
Simple to install, Easy and Safe to manage.
The Software that is included free of charge has an unlimited license without annual fees.
Thanks to Time Studio software, the customer generates the QR card containing the start and end times of use,
from a minimum of 1 hour to a maximum of 170 days, which is sent directly or by email or printed and delivered directly to the customer.
For example, after reciving the generated QR card, that will be active from 12:00 on Friday and valid for 2 days.
Then the user will be able to access the structure from the date indicated until the following Sunday, after that
the QR-Card will be automatically disabled, preventing other accesses.
Our "Development Area" always offers new access control methods and we are able to provide you the perfect solution for your business.
By integrating iAccess access control with SecurScan turnstiles, we' ve created a compact solution for stamping entrances and exits directly from the turnstile.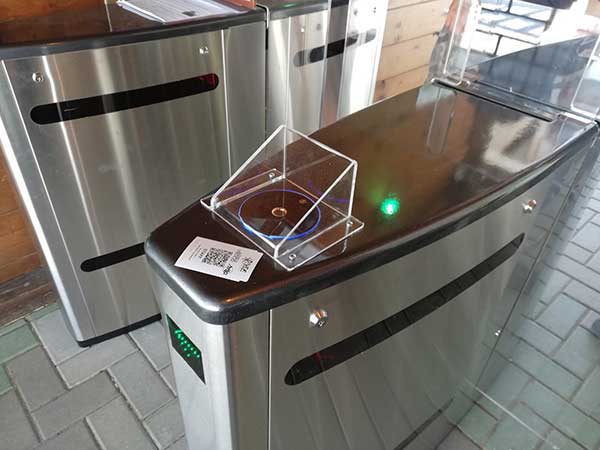 With the new series of Q-Visio products will be possible to open an entrance, a door or a gate using simply a QR-code.
By placing a timecard directly in the turnstile, we have solved the problem of time-marking rows and the usual omission of stamping due to haste. fretta.

Mark the card directly from the turnstile!
With this solution we have easy and quick access to the structure, all controlled and monitored by our Time Studio presence management software.
All managed by our specialised technicians.
---
Essential Specifications
Integrated QR card reader
Supplied PC management software
Integrated door opener relay
QR-Card recognition time: approx. 0.5 sec.
Dimensions: Diameter 100 mm - Height 40 mm.
Supply voltage: DC12V
Temperature / humidity: 0 to 45°C / 10 to 80%
OPTIONAL 12Vdc power supply.