What is the Smart Access 30 module?
SmartAccess 30 is the optional module for iAccess Time Studio that allows users to mark-up directly from their smartphone (or any other device that can access the Internet), and also to receive information from their company, such as view the list of their markings or assigned working hours.
Subscription version with 30 initial users.
With Smart Access, managing off-site users is no longer a problem!

How does it work?
By using this add-on module, the iAccess Time Studio software will become a real business control station!


It will have access to iAccess® Cloud services, exchange data with your off-site users, all in full respect of privacy.
Thanks to Time Studio it will be possible to create 30 remote profiles (which can be increased with the purchase of the additional Smart Access A30 license).
Users can use these profiles to make markings from any device connected to the Internet.
Smartphone
Tabled
Mac or PC
simply by accessing our Cloud portal via a browser.
Using the geolocation systems available on modern mobile devices, it is also possible to identify the precise location where the mark has been recorded, and locate it through Google Maps®.


Markings applied to iAccess® Cloud services remain on our databases until they are downloaded to your Time Studio software.
Data not yet acquired by Time Studio will remain on our databases for a maximum of 90 days; even in the case of extended periods of inactivity of your company.
---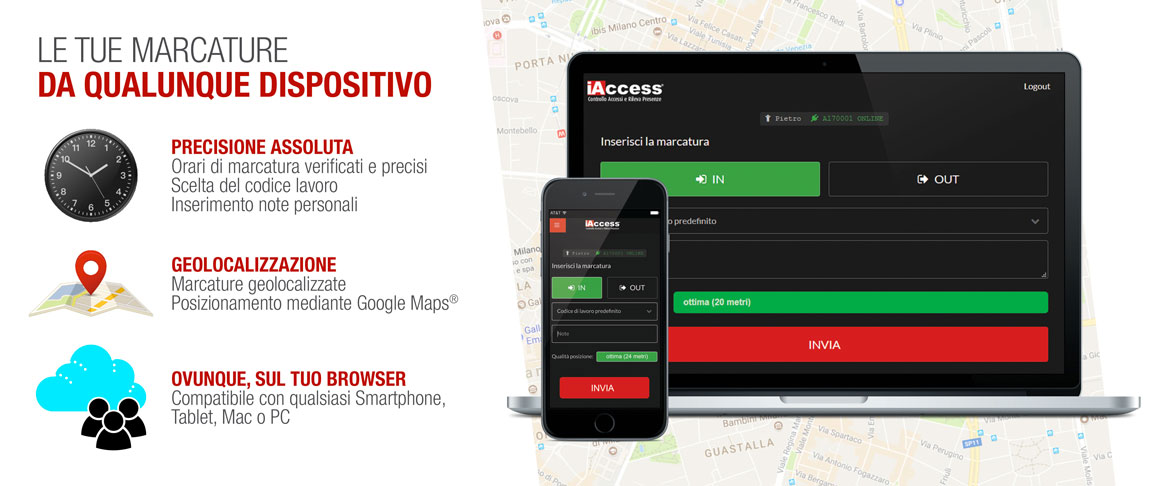 ---
Main Features
Accesses to iAccess® Cloud Services
Includes 30 Cloud profiles for up to 30 users online
Editable and reusable profiles of registered users on Time Studio
Automatic or manual authorization of markings from the cloud
Localization of cloud markings on Google Maps®
Automatic synchronization of work codes between software and cloud
Requires Internet connectivity on your PC with Time Studio software
SmartAccess30 will work on all your workstations
gratuitamente per 30 giorni

---
Schema di funzionamento