iAccess xFace 380 is a biometric Access Control and Time & Attendance system suitable for any organization and installable in a very short time, which uses the most modern technology in the field of visual or biometric identification of people.
Equipped with large memory capacity, high speed processor (930MHz) and high definition cameras with infrared, xFace 380 is able to identify a face even in low light conditions.
iAccess xFace 380 allows you to know at any time if the collaborators are present and who they exactly are. It also allows the automatic opening of the entrance door.
All iAccess systems offer exceptional user-friendliness and satisfy the highest quality standards. Employees can simply record their entries and exits by automatically identifying their faces, or by bringing their Rfid cards closer to the device or using a password reserved for them. Thanks to the included PC management software, you can quickly get a list of the present persons, print the reports of the time attendance for each user, activate the "Justifying" function and also change the access permissions.
All data can be exported via Wirless LAN (optional WiFi) or via USB Memory. It is also possible to use more than one iAccess xFace terminal, for the simultaneous coverage of several accesses with reports on a single database.
The xFace terminals are equipped with a clean contact relay that allows direct connection to either electric locks for door opening or alternatively to a siren at the start/end of work.
Product Warranty: The basic European warranty is 2 years. It can be extended to 3 or 5 years at the time of purchase.
---
Essential Specifications
HD Cameras for Facial Recognition
RFID Card Reader
Backlit Touch LCD display with english menu
User recognition time less than 1 second.
Voice synthesis in English to confirm operations
Download data via LAN, or USB memory
Register up to 10,000 users (1200 with face)
Stores up to 100,000 passages
Automatic change of daylight saving time / legal time
Power supply: 12Vdc 1A
Temperature: 0 to 45°C
Humidity from: 10 to 80% condensfree (indoor use)
Dimensions: 105 (W)×160 (H)×40 (D) mm.
Weight: 300 gr.
Warranty 24 months
Standard Equipment
iAccess Time Studio management software with unlimited license
Metal bracket and wall plugs for wall fixing
Door open relay or active siren
LAN Network Card
USB memory port
Manual of the Software and the Terminal in PDF format
Try our iAccess Time Studio
Software- Free for 30 days

---
Schema di funzionamento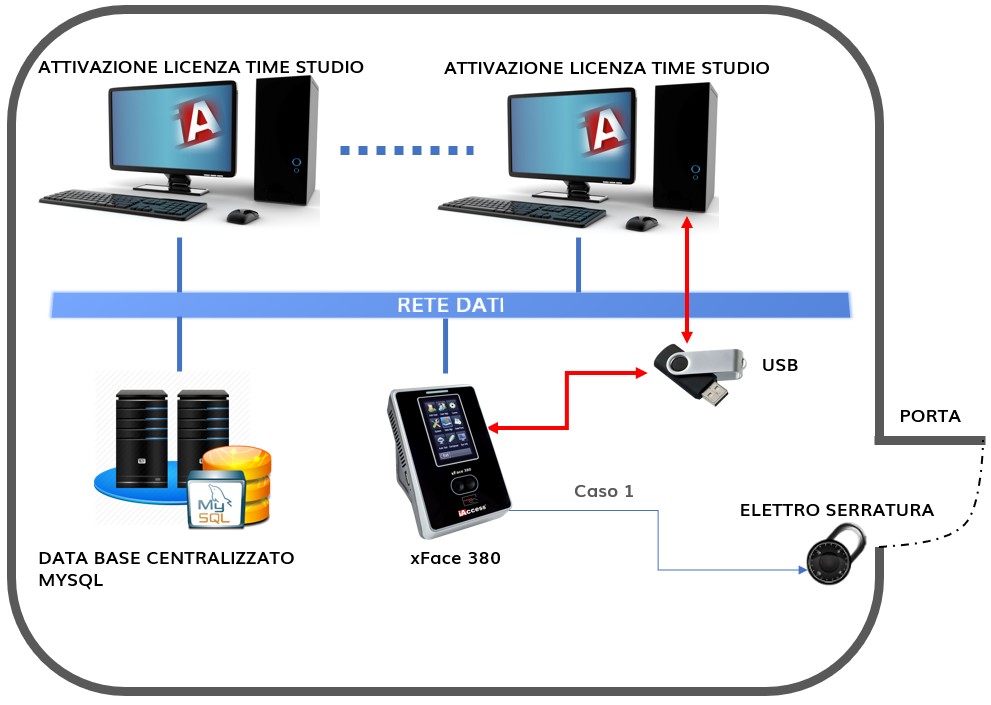 Data sheet

| | |
| --- | --- |
| User Recognition | Face recognition |
| Protection | For Indoors |
| User Management | Via Software |
| Communication | LAN |
| Display | Backlit colour LCD |
| Voice Synthesis | ITA / ENG / HUN Multilingual |
| User recognition time | less than 0,5 seconds |
| Download Data | LAN or USB |
| Number of registered users | 1.000, with 300 facial |
| Number of recordable passes | 10.000 |
| Automatic change of entries / exits | Yes |
| Automatic change of day / legal time | Yes |
| Time Zone function | Yes |
| Siren Start / End of Worktime | Yes |
| Work Code function | Yes |
| Power Supply 220 V | 12 Vcc, 1,5 Ah |
| Power supply | 220 V, Included |
| Operating environment | da 0 a 45°C, for Outdoor use only |
| Umidity | da 10 a 80%, for Outdoor use only |
| Dimensions | 140 x 170 x 35 mm. (H x W x D) |
| Weight | 500 gr. |
| Warranty | 2 years |