Q-Visio is an innovative and professional access control system, specifically designed for use in:
Small Hotels
Rooms for rent
Gyms
Swimming pools
Amusement parks
Generally speaking, wherever it is necessary to allow a door to be opened simply by using a QR card, even in unattended environments.

iAccess Q-Visio does NOT requires any network or internet connectivity. It works completely independently.
It is just necessary to supply it with 12 Vdc, and connect its relay to the electric lock of the door you want to control.
The supplied software allows the operator to generate a QR card containing the start and end times, from a minimum of 1 hour to a maximum of 170 days.
The Time Studio access control management software has the following features:
Unlimited license
No annual fee
No Limitation of users
For example, you can generate a QR card that is active from midnight the next day and for a period of 3 days.
Then the user who receives the QR card can use it to open the door from midnight and for the next 3 days, then the QR card will be automatically disabled, preventing further accesses.

The QR cards generated by the software can be simply forwarded to the user via e-mail such as JPG or PDF, or printed and delivered.
Our "Development Area" ensures maximum customization of access control and we guarantee the right solution for your business.
Case History
The River Park water park in Piacenza has chosen iAccess access control solutions, in particular the combination of turnstiles and Q-Visio access control.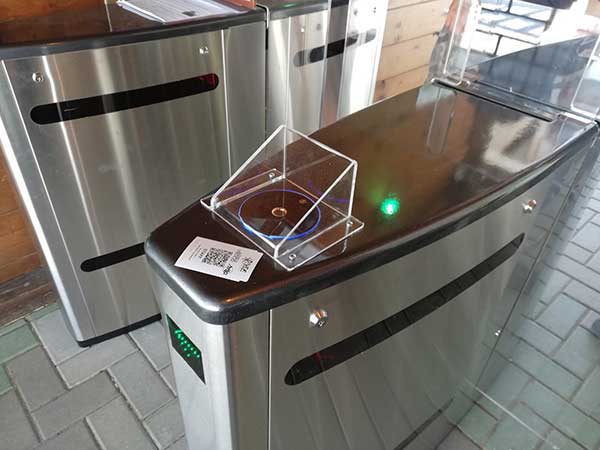 We have created a compact, customised and extremely effective solution to facilitate access to the park and to satisfy the customer's needs.
With the new series of Q-Visio products you can open an entrance, a door or a gate simply by using a QR-Code.
---
Essential Specifications
Integrated QR card reader
Integrated door opener relay
QR-Card recognition time: approx. 0.5 sec.
Dimensions: Diameter 100 mm - Height 40 mm.
Supply voltage: DC12V
Temperature / humidity: 0 to 45°C / 10 to 80%
OPTIONAL 12Vdc power supply.